With spring now upon us and summer right around the corner, perhaps it's time to give your outdoor living space a bit of a boost. Though comfortable outdoor seating, barbecue grills, energy saving lighting and outdoor fire pits add a bit of style to your backyard, an elegant outdoor kitchen is apt to give it a whole new look and feel.
At Harpeth Valley Hardscapes we offer a wide range of elegant outdoor kitchen designs that are sure to satisfy even the pickiest of clients. A customized addition to your backyard that ideally blends with your current landscaping and other outdoor elements, will not only add convenience to your backyard gatherings, but will certainly add both aesthetic appeal and value to your home. When designing our own personal outdoor kitchen, you can choose to add on such features as a new grilling station along with stainless steel cabinets that are sure to add a whole lot of pizazz to your backyard.
Additionally, you may choose to add and outdoor bar and some oversized bar stool seating to accommodate all your guests and even a mini refrigerator and sink along with some chic natural stone countertops that can put the finishing touches on your design. When completed, your new backyard design and layout is sure to enhance your seasonal entertaining while providing all the resources and tools you need to enjoy top-shelf outdoor cooking, grilling and dining.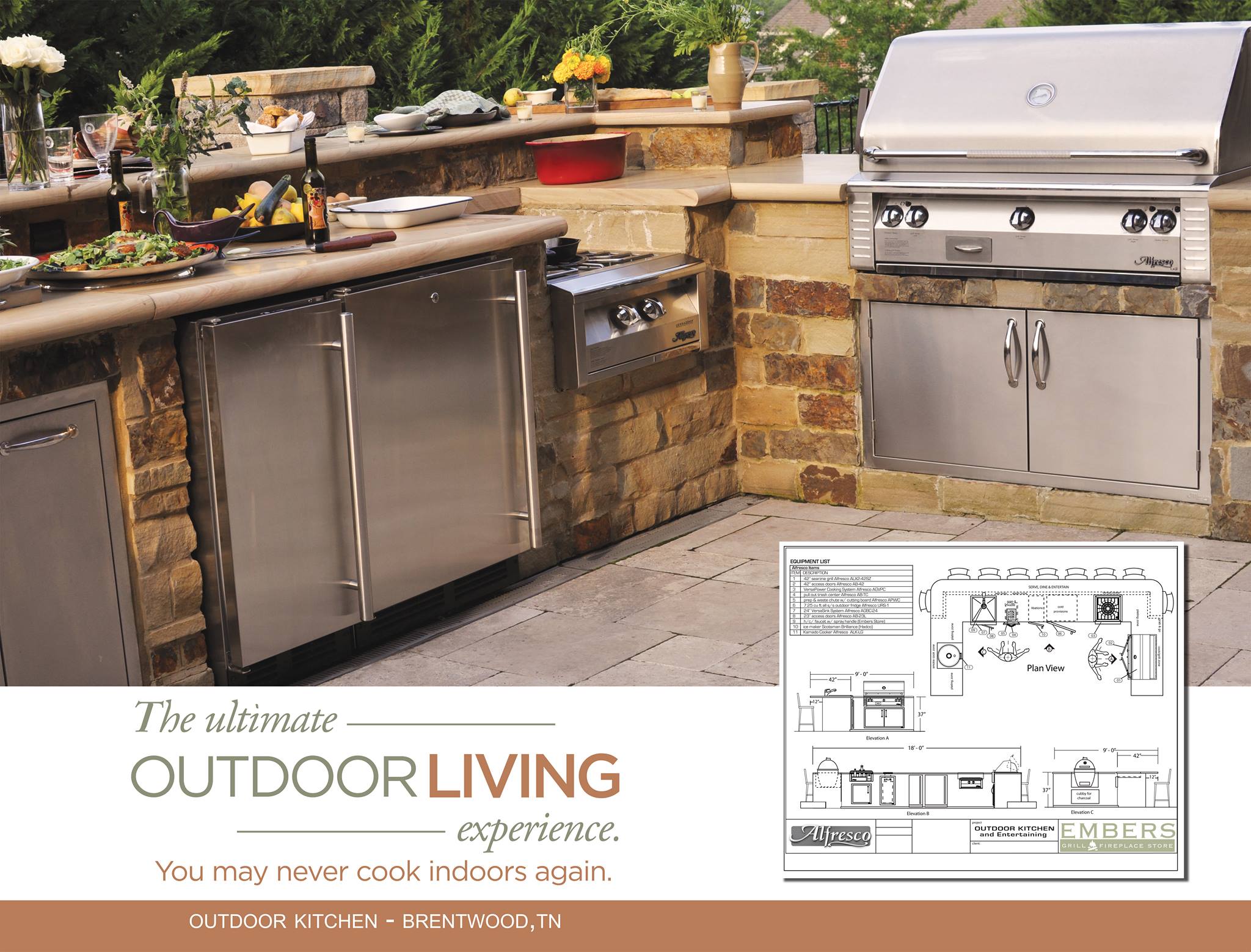 We all take pride in our warm weather activities from basking in the backyard pool, listening to jazzy music and enjoying family cookouts to simply sharing cocktails, laughs and conversations with family and friends. With that said, how delightful it would be to add a stylish outdoor kitchen to your backyard ensemble and to your every outdoor event.
After a long hard day at work, surely you look forward to heading home to just kick up your feet and relax. Sitting out in your new backyard paradise, eating dinner, and enjoying the quiet of the evening is something we all long to do. Well, with your newly designed kitchen you can do just that. No need to venture back and forth into the house for cooking, but rather pop your burger on your outdoor kitchen grill, pour yourself a drink and take in the evening sunset.
A well-designed kitchen layout with a variety of add on features can also bring outdoor activities, entertaining, cooking, grilling and visiting to a whole new level. What a sight to embrace with steaks and lobster grilling on the grill, music playing in your outdoor space, family and friends sharing laughs and dancing, and you serving cocktails from your newly designed outdoor bar. Outdoor kitchens are definitely the newest trend, and indeed a trend that is certainly here to stay.
If you are a homeowner, not certain of what appliances or add on features you should include in your kitchen layout, don't fret. Here at Harpeth Valley Hardscapes our consultants are on hand to provide all the insight and know-how you need and to assist you in making a truly informed decision about your new investment.
Spring is here and before you know it, summer will make its presence known. If you are looking to add style, appeal and a whole lot of class to your backyard paradise, then reach out to the pros here at Harpeth Valley Hardscapes for a free consultation. Adding a chic, stylish outdoor kitchen to your personal oasis is sure to make you the envy of all your neighbors. Give a shout out to our team today and let us help you turn all those backyard dreams into a reality with a fully functional outdoor kitchen designed to meet your every outdoor cooking and entertaining needs.