As homeowners, we all look for affordable ways to improve the aesthetics of our living space and enhance the value of our homes. Home improvement projects are the perfect way to add style and class to your home while increasing its overall value. Whether window replacements, kitchen or bathroom makeovers, roof installs, or custom designed retaining walls, the list of improvement projects that homeowners can perform goes on and on.
With that said, here at Harpeth Valley Hardscapes we provide hardscape designs and creations that can add to the already existing appeal and décor of your home and property. Our team of professional installers and technicians work right alongside our clients to create and develop specialized hardscapes that meet with their individual needs and styles.
One of the most common hardscape designs requested by our many clients is that of stylish retaining walls. Their popularity stems from the simple fact that they are quick and easy to design and install, are very affordable, and can add a touch of style and class to any home or property. Both beautiful and low-maintenance, these walls can be customized to satisfy the taste and style of our clients, and are sure to can add years of enjoyment and comfort to many a front or back yard.
The Many Uses of Retaining Walls
Attractive retaining walls can take the place of hard to manage wooden decks, and when coupled with a raised patio can certainly add an entirely unique look and feel to your backyard paradise. Since they can be customized to suit your every need, they are often a favorite choice of many homeowners looking to add style to their outdoor living space.
Additionally, installing a retaining wall where your driveway meets your yard can create an appealing barrier that can protect your lawn and grass from all sorts of damaging situations such as snow plowing or even tire tracks. Though it serves a vivid purpose, a wall installed as a barrier can certainly add curb appeal to your home as well.
For those homeowners who have sloping issues on their property, a tiered retaining wall can resolve your problems while adding an attractive foundation for plants, flowers and shrubs of all types. Further to this design, installing seat walls along with your retaining wall will definitely display a classy curb appeal that is sure to make you the envy of all your neighbors.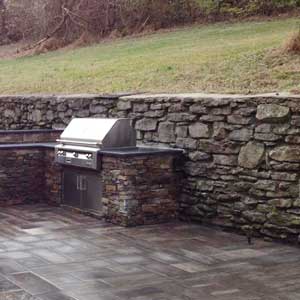 For the dedicated gardener and flower expert, a retaining wall, created with a personalized look and style, can be ideal for planting annuals, perennials, herbs, assorted flowers and a variety of other shrubs and plants. This type of wall creates an attractive and very tidy look to your outdoor living space and is as affordable as it is attractive.
If you are like so many other homeowners on the lookout for affordable home improvement projects that can enhance your curb appeal, the aesthetics of your home, and increase its value at the same time, then surely, we are the team for you. Here at Harpeth Valley Hardscapes our dedicated team of professionals is on hand to perform an inspection and analysis of your property and terrain in our diligent efforts to help you decide on the perfect material, size and style of a retaining wall that will best satisfy your personal needs.
Your home is one of the biggest, if not the biggest investment you will make in a lifetime, which is why we stand ready to assist you with all your hardscape and outdoor living space needs. Contact our team for your free consultation today. Spring has sprung, and what better time of year to add to your backyard paradise an elegant, affordable retaining wall customized to your personal design and style. Why delay? Reach out to our team today!!