A favorite past time of so many people is simply that of eating. People just love to eat, and so many people love preparing their food as well. Preparing delicious dishes for everyone to enjoy, is a hobby of many people, both male and female, and surely the thought of being creative with your menu on a beautiful summer's eve while grilling outdoors is an experience we would all love to share. There are just a couple of key factors customers need to keep in mind when planning an outdoor kitchen space.
Truly the kitchen is the central point or hub of every household and requires a good deal of planning. With that said, wouldn't it be wonderful to take that rewarding indoor cooking experience and move it to the backyard during the delightful spring, summer and fall months. Here at Harpeth Valley Hardscapes we take tremendous pride in our superior products, services and professional installations. We enjoy helping our clients to design and build their outdoor kitchens and turn their everyday cooking experiences into an outdoor dream.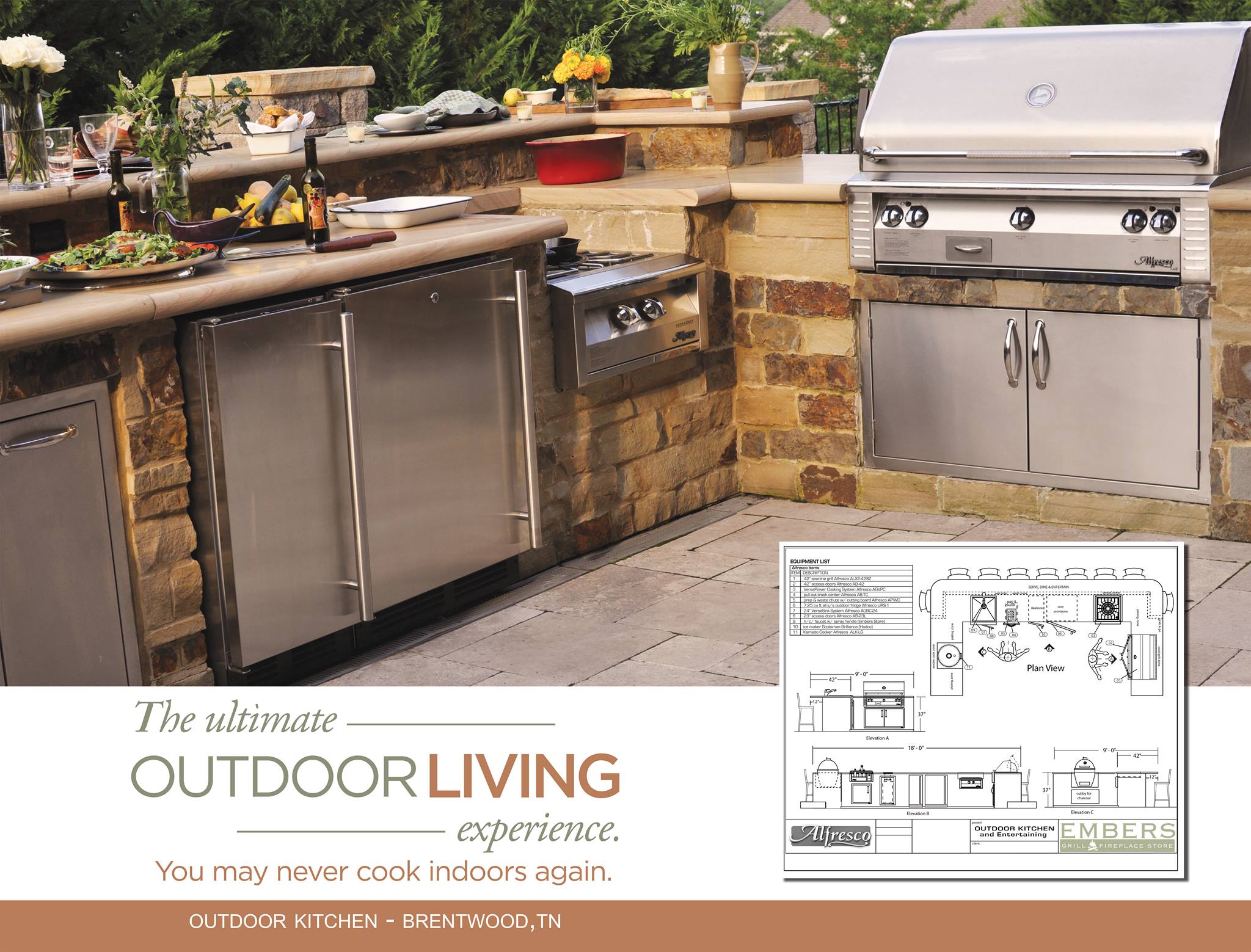 For starters, it is imperative that your outdoor kitchen is designed and built somewhere near to your indoor kitchen which proves quite helpful when you are transporting foods in and out of the home. Further, in designing your outdoor kitchen choosing the appropriate appliances is every bit as important as cooking the meals themselves. The grill is your number one appliance choice obviously, but there is a wide range of other kitchen appliances that you want to give focus to when planning your outdoor kitchen. Appliances such as refrigerators, side burners on your grill, and perhaps even a wine cooler or chest can all contribute to the ideal outdoor kitchen.
Although somewhat tricky or even a challenge, a sink is also an important appliance to add to your outdoor kitchen. It becomes a bit of a challenge and somewhat tricky because of the potential for water freezing, but indeed you can add a sink to your outdoor kitchen design and feel confident of your choice by ensuring that the pipes to your sink, both water and drain, can be winterized when necessary.
Further appliances or components of your outdoor kitchen should definitely include various types of storage spaces such as drawers, doors, paper tower dispensers, and even trash bins just to name a few. We all know how important storage issues can be and such is the case with your outdoor kitchen as well.
If you want to be a bit more creative in your design and build than adding a bar or serving counter to your outdoor kitchen space is an ideal option. There is nothing quite as comfortable and exciting as enjoying a spectacular outdoor meal with lots of good company, good conversation and a comfy setup to accommodate it all. Most people take pleasure in having guests over to their homes, whether family or friends, and often we prefer their company as we are midstream in preparing the delicious meal to be served. Typically your space gets crowded when everyone is standing around the grill while you are attempting to be creative. This is where a beautifully designed bar or serving counter would come in. By incorporating a bar or perhaps an attractive island into your outdoor kitchen space you will solve this problem and add to everyone's comfort and fun. And just think, this very same bar can act as a serving counter as well.
Continuing on with our creation and design of your ideal outdoor kitchen, let's not forget about a shade structure of some sort. With this concern in mind, in order to effect the overall function of your outdoor kitchen you may want to install a pergola which would both reduce sunshine and add quite an appealing architectural element to your creative design. It's always an extra perk when we can get creative with our outdoor cooking and not have to stand out in the direct sunlight while doing so are still be able to create and cook outdoors even when it's raining.
If you want to add style, eloquence and certainly an obvious appeal to your outdoor living space, then contact the professionals here at Harpeth Valley Hardscapes today for your free consultation on the design and build of your very own outdoor kitchen. Our technicians are here to answer all your questions, address all your concerns and guide you through the exciting experience of installing an attractive and effective outdoor kitchen to your living space. For more information about our top of the line services take a peek through our website and then give a shout out to our highly skilled and experienced team who can help you turn your backyard into an exciting, fun-filled outdoor living space today.